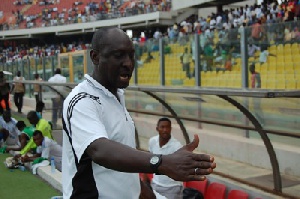 Yusif Abubakar, head coach of Aduana Stars, Ghana's sole representative in this year's Africa club competitions, has bemoaned lack of support from Ghanaian clubs in their continental campaign.
Coach Abubakar who described this phenomenon as "unfortunate", said that Ghanaian clubs hated themselves and fought against each other especially when they played foreign teams.

"We are always going to be enemies to ourselves, how can we win when we are against each other," he said on their arrival at the airport from Madagascar on Friday.

He said the reason why Ghanaian clubs underperform in continental club competitions was because of the "active roles" some of the clubs played in making opponents stronger and better, adding, "you don't see elsewhere".

"We need a lot of support to succeed but this is always missing. It's unfortunate that any local team that is playing against an outside team gets a lot of opposition in Ghana.

"But whenever we played outside, we don't see that happen in the other countries. We travelled to Egypt to play Al Tahaddy, we travelled to Algeria to play ES Setif and we travelled to Madagascar to play Fosa Juniors and from the experience that I had, I could see that they were very united," he lamented.
"But whenever a team comes to play in Ghana, they get a lot of people who support them and work against the home team. That's when you will see groups formed like friends of this and friends of that, which is unfortunate.

"So not until that stops I don't think any club from Ghana can go far. It time for us to bury our differences and support our teams that represent Ghana in Africa."

Aduana Stars qualified for the first time into the group stage of a continental club competition following a 7-3 aggregate scoreline over Fosa Juniors from Madagascar in the Confederation of Africa Football (CAF) Confederations Cup.

The Dormaa based club were however drawn in Group A with three other former continental champions including Moroccan club Raja Casablanca (1989,1997,1999 Champions League winners), Ivorian giants ASEC Mimosas(1998 Champions League winner) and AS Vita (1973 Champions League winner) Club of DR Congo.