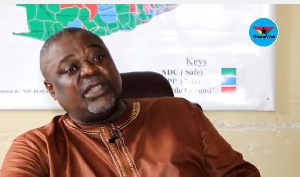 Sun, 8 Sep 2019 Source: --
Former Deputy General Secretary of the main opposition National Democratic Congress (NDC), Samuel Koku Anyidoho, has urged Ghanaians to holistically join the fight against corruption, "no sitting on the fence, we need to join resources together to fight a common enemy".
According to him, "the timing is so right for the Special Prosecutor along other agencies to look into corruption cases under this government to save this country."

"Ghanaians and every citizen in this country need to stand up against corruption or else in future our future generation is going to suffer," Koku Anyidoho told Kwame Tutu on Anopa Nkomo on Accra based Kingdom FM 107.7.

The scandal has radically changed public perceptions of how politics works, the danger corporate power presents to democracy. It has electrified a dozy parliament and subjected the least accountable and most corrupt profession in Ghana – journalism – to belated public scrutiny.

He said the effectiveness of the media depends on several factors such as access to information, the freedom of expression and also the class of professionals, who had the necessary skills to do their work.

"We need to be united in this course regardless of political parties and rather think about our national interest."
President Nana Addo Dankwa Akufo-Addo has however suspended Mr. AB Adjei from office, with immediate effect, the Chief Executive Officer of the Public Procurement Authority (PPA), Mr. AB Adjei after he was unmasked in an exposé over the alleged sale of contracts.

Moreover, the President has also terminated the appointments of the acting Chief Executive Officer of the National Youth Authority (NYA) and his two deputies.

This was after a petition was brought to the attention of the Chief of Staff regarding a questionable procurement procedure which the Public Procurement Authority (PPA) has been called in to investigate.

The firebrand politician mentioned poor or bad service, bias, insensitivity, neglect, disrespect, and many others meted out against a member of the public by a public officer.
Source: --