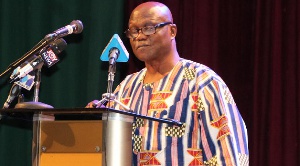 Speakers at the second edition of the Revolutionary Lecture series in Accra, have urged Ghanaians to bind themselves to the values of probity and accountability.
Professor Newman Kwadwo Kusi, Executive Director of the Institute of Fiscal Studies, Ghana, and Professor Kwesi Botchwey, a former Finance and Economic Planning Minister, were united in their position that, this was vital to the nation's socio-economic transformation.

The lecture series was born out of the experiences and philosophy of former President Jerry John Rawlings and the revolutionary transition that Ghana went through.

It draws revolutionary ideas and experiences from politics, trade and industry, academia, gender, foreign and the global environment with the hope to create consciousness that would transform and shape the national psyche, attitudes and behaviours.

This year's event was held in Accra was under the theme "Revolutionary economic trends, Ghana in focus: past, present and the future".

The lecture delved into the nation's economic progress and assessed its readiness for the future, taking into consideration the economic dynamism across the globe.
In attendance were former President Jerry John Rawlings, who led the June 4, 1979 Revolution, and former Vice President Paa Kwesi Bekoe Amissah-Arthur, who chaired the function.



Prof Kusi said what had been laudable in Ghana's history was the steady progress made since the return to democratic rule in 1993 - the enhancement of the democratic environment and economic transformation.

He said governments had since the return to multi-party democracy in 1993 pursued a development agenda that emphasised the urgency of economic growth, poverty reduction, and investment in human development.

The economy had recorded growth levels that had restored the country to its immediate post-independence promise.


Relative to the average prospects in sub-Sahara Africa, Ghana appears particularly promising and re-emerged as a model state of development in Africa.

He however, noted that, in spite of the notable achievement, the growth had been somewhat limited, unresponsive and uneven.

Prof Kusi said the most visible reflection of these challenges was the economy's continued lack of deep structural transformation and the seeming inequity in the distribution of the benefits of growth.

"There still remain major policy and structural challenges, particularly in the apparent lack of response to policy dynamism by the private sector and public sector ineffectiveness.


While the country continues to enjoy strong economic growth, employment opportunities remain grossly inadequate to absorb the growing labour force," he said.

"A sustainable growth and development that will ensure equitable distribution of the benefits arising out of that process is what is critically needed."

Prof Botchwey said the successful introduction of the Economic Recovery Programme (ERP) in the 1980s led to the restoration of international confidence, adding that, policy failures could be very costly to government.

Former Vice President Amissah-Arthur said policy making under the Provisional National Defence Council (PNDC) era was more democratic than the successive governments had been.