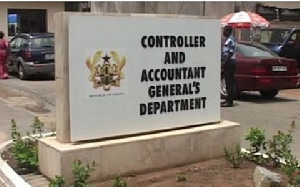 The Controller and Accountants General Department (CAGD) has noted that ghost names on the government payroll is still a major challenge to the department.
Director of Payroll Processing Directorate of the CAGD, Elizabeth Osei, noted that, given that, every month some workers resign from their posts and others die vis-à-vis the failure on the part of some heads of the institutions to report the exit of the workers, there will still be ghosts names on the payroll.

She however, assured that measures have been put in place by the CAGD to deal with the challenge.
She told Chief Jerry Forson on Ghana Yesnom on Accra 100.5FM on Thursday, 26 July 2018 that: "People resign almost every month from their posts and others also lose their lives but when the heads of the departments fail to report this to the Controller, it means the salaries of those persons who have left will continue to be paid for a while before the problem is rectified, and so, ghost names may be existing on the payroll. However, we at the CAGD have put in place some measures to deal with the ghost names."