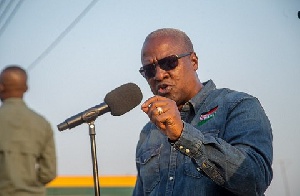 Former President John Dramami, has appealed to delegates of the opposition National Democratic Congress(NDC), to give him massive endorsement to send a signal to the ruling New Patriotic Party (NPP) that, the umbrella family will send them out of power come 2020.
The former president who is currently on a campaign tour in the Upper East region to seek for a return as candidate for the NDC in 2020 said, a massive endorsement will save Ghanaians from the supper hardship under the NPP.

"I need every single one of your vote because your endorsement has to be massive. You need to send a signal to the NPP that we are solidly behind your candidate and that, come 2020, we are going to get them out of the Flagstaff House."

The NDC he touted has a solid track record of good economic stability whereas the NPP has proven to be incompetent in managing the economy.
Mr Mahama said, although the NDC was attacked for making the lives of Ghanaians hard, we are currently witnessing extreme hardship.

"The NDC has proven to be a party that cares about the people, that has undertaken massive developments for our people, and under who prosperity and economic activities flourish. They say when we were in power, life was hard and I say that life is super hard. Any Ghanaian will attest that, he was better off under the NDC than he is under the NPP except for a few family and friends around the oga himself. They will say life is better but if you ask Ghanaians, they will tell you life is harder under the NPP administration than it was under the NDC administration."

He concluded by saying that, the NDC owe it as a duty, to come and save Ghanaians, from the super hardship they are going under the NPP. And that is why the NDC must win the next election. "