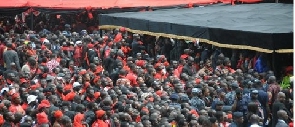 The Gomoa East District Assembly has been found to have spent GHC81,000 on the funeral of its late District Chief Executive (DCE).
This comes after the 2015 Auditor General's report indicted the assembly over its expenditure on the late Kingsley Ahunu-Armah.

Appearing before the Public Accounts Committee (PAC) which is currently holding its public hearings in the Western Region with support from USAID and GIZ, the Accountant for the Assembly, Ebenezer Mensah, noted that the presence of some very important dignitaries saw the initial GHS9000 budget for the funeral balloon to GHS81,259.

He told the committee that: "Looking at the category of people who attended the funeral from the presidency and all the other MPs and Ministers that came to the funeral, even though the money may be on the high side, if given a second opportunity, something could be done about it but at the time that is what we spent."
According to Mr Mensah, the decision was proposed by the Executive Committee of the assembly and approved by the General Assembly.

Meanwhile, Ranking Member for PAC, Kofi Okyere-Agyekum, who is also MP for Fanteakwa, described the expenditure as "outrageous."

He told Class91.3FM's parliamentary correspondent, Ekow Annan that: "We don't set up district assemblies to use the funds of the assembly to conduct funerals. If a member of staff dies, they may have a welfare system or members of the assembly or staff may make contributions to help the family to conduct the funeral but to spend GHS81,000 of the assembly's money to conduct funeral for a dead staff sounds outrageous to me." "You know what GHS81,000 can do?" he quizzed.