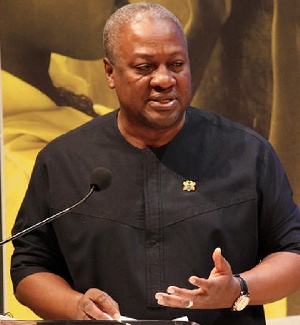 Former President John Mahama has accused the Akufo Addo government of constructing dugouts instead of the promised dams in villages in the Northern Region.
The New Patriotic Party (NPP) made a major campaign promise ahead of 2016 to construct one dam per a village in the three regions up North to improve on irrigation in the area.

But the Ex-President who's on a campaign tour of the Northern region in his bid to be elected the Flagbearer of the opposition National Democratic Congress (NDC) stated that the government has deceived people up north with the construction of dugouts instead of the promised dams.
"I was coming from Mamprusi West and the One Village One Dam and they've gone to do the experimental one, of course, they should have told us they were dugouts because they are not dams. Before the elections I asked them are you talking about dugouts or irrigation dams or you are talking of barrage dams or what are you talking about, define what you mean by dams, they refused to answer. Apparently, they were thinking of dugouts, as for dugouts we were digging them already. Under GSOP we dug so many dugouts under the Savanah Region of this country and so its nothing new. So that One Village One Dam really there was nothing in it. It is One Village One Dam, even the dugouts where is it? the dugouts are not even there."