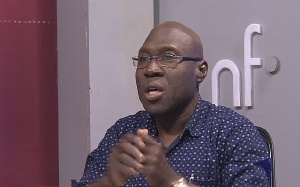 The ruling government is intentionally targeting former government appointees under the John Mahama administration just to 'defame' them, according to Inusah Fuseini.
The Member of Parliament for Tamale Central and the former Minister for Lands and Natural Resources is part of a number of government appointees who have been accused of receiving double salaries as MPs and also as Ministers.

Some of the names mentioned are Alban Bagbin, MP for Nadowli West in the Upper West Region; ET Mensah, one of the 'three wise men' under Mahama's presidency and former MP for Ningo Prampram; Haruna Iddrisu, former Minister of Employment and Labour Relations and MP for Tamale South, Emmanuel Armah-Kofi Buah, former Petroleum Minister and MP for Ellembelle in the Western Region and Nii Lantey Vanderpuye and former Youth and Sports Minister and MP for Odododiodioo Constituency.

These officials have accused President Akufo-Addo of using the Police Criminal Investigations Department (CID) to harass them and has vowed to resist attempts to use the security agencies to witch-hunt them.

Meanwhile, the CID has reportedly begun a probe of the officials involved.

Reacting to this allegation in an interview with Kwami Sefa Kayi on Peace FM morning show 'Kokrokoo', Monday, Inusah Fuseini who will be meeting the CID on Tuesday said "there is some level of criminal targeting of former appointees".
According to him, "it appears that the value of fairness, equity and justice is not being followed".



"…if a public servant has been given a double salary, they are not reported to CID. The person is called to refund the money and if that is not done; that is when you report the person to an investigative authority. But this was not done…why the discrimination?" he queried.

Explaining further, he said "all MPs are paid by Parliament. If you are a minister and an MP; you get extra responsibility allowance which is paid by the controller and Account General Dept. as a minister and an MP you have one salary and not two. Before the salary will be determined, you will be given payment on account. Therefore Parliament will pay your payment on account and controller will give out extra responsibility allowance…there is no way you can take a double salary…I had one salary As MP and a minister. As an MP I was paid by parliament and as a minister I was given an extra responsibility allowance…they are just defaming us and attacking our integrity".