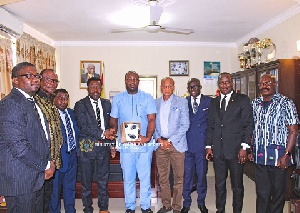 Communications Director of the Ministry of Youth and Sports, Elvis Adjei Baah has disclosed that the much-anticipated meeting between government and FIFA went well.
Reports went viral that the Ministry of Youth an Sports will not meet the delegation from FIFA if they first meet the Ghana Football Association Member with the claim that they have been suspended.

"Ghanaians will be made known as to what transpired in the meeting. At the appropriate time, whatever happened in the meeting will be made known," Adjei Baah told Happy FM on the late afternoon show, Wamputu Sports.

"Initially we wanted to postpone the meeting but since FIFA delegation were in the country, we have to show them the respect so we held the meeting. The notion that FIFA will ban Ghana is out of the question here. It won't happen.
"The meeting was held between FIFA and government. No GFA official was present in the meeting," he added.

The meeting was attended by Godfred Yeboah Dame, Samuel Abu Jinapor, Hon Isaac Asiamah, Frank Quist and Mustapha Hamid.