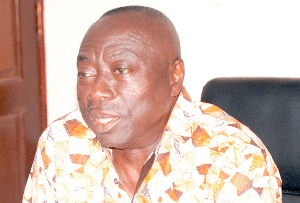 Former New Patriotic Party (NPP) chairman aspirant, Fred Amankwah, is backing calls for the dismissal of the Ghana Maritime Authority boss, Kwame Owusu.
Mr. Owusu is alleged to have superintended over questionable expenditure at the authority, including spending a million cedis to renovate his official residence.

It also emerged that the Authority in November and December 2017 spent over GHC140,000 on food and music at separate events for staff and stakeholders.

A memo revealed that on November 08, 2017, an amount GHC10,652.05 worth of food was supplied to the authority by LUXE SUITES and HOTEL after a management and stakeholder meeting involving eight people.

Another Memo on December 28, 2017, also revealed that GHc135, 125.00 was spent on food, drinks and music for staff during the end of year dinner party.

Mr Owusu strongly defended his actions, saying the leak of the documents were borne out of mischief.
Speaking Friday on Morning Starr with Francis Abban the former chairman aspirant and leading member of the national communications team of the governing NPP described Mr Owusu's explanation is untenable.

"He has done something marvellous in there. A lot of changes had come to the place. But that cannot be the reason why he should spend these huge sums of money," he said.



"This justification that I am hearing it doesn't sit well with me," he added.

Asked if Mr Owusu should be fired, Mr Amankwaah said: "Yes. If he has done something wrong against his specification, then he must go."
Meanwhile, a member of the Constitutional and Legal Affairs Committee of Parliament and MP for South Dayi, Nelson Dafeamekpor has urged the office of the Special Prosecutor to take up the matter.

"He is a public officer. He should be apologizing to us. The lack of remorse on his part is what offends my sensibilities. He has to go," he told Francis Abban.

"What is he doing the Special Prosecutor? Matters like these should be attracting his attention," he added.