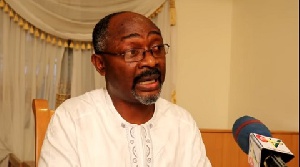 Embattled businessman Alfred Agbesi Woyome has maintained that he's been consistent with his narrative on the GHc51 million judgement debt paid him whereas government has been inconsistent.
According to him, his documentary evidence since the case started has remained the same. ''The narratives from the accuser; those who represent the state has always changed.

You and I know that the narratives from the beginning, discussions have always changed by them and I have never fought my case in the media because the case is in court…'' He was responding to the storming of his Trassaco residence by armed military men with officials from the Land Valuation to value his property.

He wondered why the military should be dragged into civilian court matters and questioned whether he was operating illegal structure and described it as criminal.

Some armed men stormed their Trasacco residence in Accra, to value Mr Woyome's home as part of steps being taken by the State to recover GHC51.2-million controversially paid him as judgment debt.
Mr. Woyome said he questioned the authenticity of a court warrant granting access to the house for valuation in view of the fact that the country's courts were on legal vacation.

He disclosed in an interview with Rainbow Radio that the armed clocked a gun at his wife and in his view, an attempt was made to get him to react so they assassinate him and report later that he was inferring with the work of the team.

''This thing is truly criminal and how they are dragging the military into civilian court matters, I don't understand,'' he said.