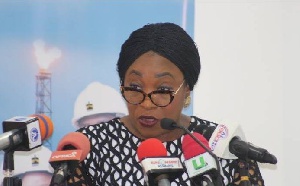 The Minister for Foreign Affairs and Regional Integration, Shirley Ayorkor Botchway, has indicated that government will not relent in efforts aimed at tackling corruption until they triumph.
"Our persistence in battling corruption, which has become an impediment to socio-economic development, is paramount. Government will continue to fight that war with all the tools available to it until victory crowns our efforts," Madam Botchway stated at the flag raising ceremony for the celebration of the 55th anniversary of the Organization of African Unity (OAU), now African Union (AU) held in Accra on 25 May 2018.

She explained that the declaration of 2018 by the African Union Commission as the African Anti-Corruption Year rightly echoes the theme for this year's celebration, that is; 'Winning The Fight Against Corruption, A Sustainable Path To Africa's Transformation' which "reminds us of the need to constantly fight against this vice, and against impunity on the continent, if we are to place ourselves on a sustainable path to a prosperous and peaceful Africa".

She observed that as "we resolutely link the theme of this year's celebration to our own national priorities, we recognise and duly acknowledge government's demonstrated efforts in the setting up of the National Anti-Corruption Plan (NACAP) and the establishment of the Office of the Special Prosecutor, among numerous measures taken".

According to her "these are expected to contextualise and mobilise efforts and resources in a bid to help prevent and fight corruption through the promotion of high ethics and integrity, as well as through vigorous enforcement of applicable laws".
She said the adoption of the African Union Convention on Preventing and Combating Corruption (AUCPCC) in 2003 and the African Union Advisory Board on corruption in 2009 reflects the existence of the relevant architecture for fighting corruption on the continent and for advising governments on how to deal with the scourge and related offences within their domestic jurisdictions.

"On that score, AU member states have been more than willing partners in the endeavour to fight this canker and they have taken measures at various levels to fight to give expression to the AUCPCC, particularly through the setting up of national anti-corruption institutions- Ghana not excluded," she added.

For her, as stakeholders in the future of the continent, it is important to utilise the opportunity offered by a memorable event like the one on Friday to reflect on the past and take stock of the achievements as well as failures of the AU.

She explained that "it was in keeping with this persuasion that African leaders dedicated the 50th Anniversary celebration in 2013 to reminiscing over past successes and charting a path for the AU for the next 50 years, by pursuing the Pan –African vision of an 'integrated, prosperous and peaceful Africa, driven by its own citizens and representing a dynamic force in the global arena'".