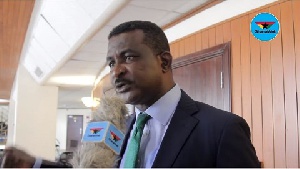 Former Central Regional Minister, Kweku Ricketts-Hagan, has revealed that some members of the National Democratic Congress amassed wealth for themselves during the Mahama administration at the expense of the taxpayers.
According to him, those people must be dealt with by the party in order to give the NDC a chance in future elections.

Mr Ricketts-Hagan, who is also a former Deputy Minister of Finance, said, as a social democratic party, improving the lifestyle of the ordinary Ghanaian with social intervention programmes must be the NDC's main focus.

Speaking in an interview with Chief Jerry Forson, host of Ghana Yensom on Accra100.5FM on Wednesday, 20 December, while officially announcing his decision to run for the flag bearer slot of the NDC ahead of the 2020 polls, Mr Ricketts-Hagan said: "This country can move much faster than what we are doing at the moment and get better results than we are getting at the moment. At the moment, politicians are not very popular because Ghanaians are not very happy with the things that are going on.
"We are the politicians and we must clean our houses, whether it is corruption or whatever, corruption is something that we must be seen to be fighting. As I always say: corruption is like a ghost, you know it is there but sometimes you can't point to it, so, we must look at the root cause of corruption because we are to serve our people, not to serve ourselves.

"That will be one of the core things I will do in our party to make sure that those who are in the party just for the money or positions to enrich themselves at the expense of others, are stopped. This attitude has no room for social democratic parties like ours. Ours is to seek the welfare of our people, bring our people out of poverty and improve their economic lifestyle and not to improve the lifestyle of ourselves and our families.

"A lot of these have gone on in our party where there are people who joined the NDC purely for their own gains and some of the corruption issues and allegations going on is as a result of a few people making things bad for us in the party. We must root these people out of party."