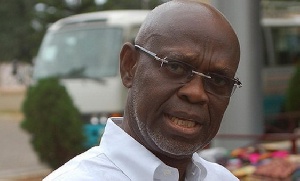 The agitations marring the hearing of the fact-finding committee of the National Democratic Congress (NDC) took a very nasty turn on Wednesday, as its sitting at Kawudi in Accra reportedly ended up with a gunshot.
A supporter of former Member of Parliament (MP) for Ayawaso North, Dr. Mustapha Ahmed, was reported to have fired the warning shot, causing undue panic among members of the committee and supporters of the party.

DAILY GUIDE gathered that Prof. Kwesi Botchwey's committee, which has been traveling across the country to sample views of supporters and executives of the NDC on why the party lost the 2016 elections in such a shameful manner, met four constituency executive members and party supporters at Kawukudi in Accra last week.

The committee visited the East Ayawaso Constituency in Accra to receive the concerns of four constituencies namely: Ayawaso East, Ayawaso North, Ayawaso Central and Ayawaso West Wuogon.

Constituency executives and enthusiastic supporters reportedly locked horns over who should be allowed to speak to the committee, while a large number of party faithful stood outside the Alhaji Moro Baba Issah's Hall due to the lack of space inside the Hall.

They reportedly could not get in to express their views on what they thought led to the party's embarrassing electoral defeat.
Some had expressed their disappointment about the former government appointees, accusing them of being greedy and selfish.

Confusion was said to have broken out during the hearing when some members of the party from Ayawaso North Constituency accused their former MP and one-time Minister of Youth and Sports, Dr. Mustapha Ahmed, of creating divisions in the constituency and contributing to the downfall of the party in the last general election.

The allegation, according to reports, did not go down well with some supporters of the former minister, resulting in hot exchanges that allegedly led to the firing of a gunshot by a supposed supporter of Dr. Ahmed – known in the area as Chinese.

Dr. Ahmed had also reportedly dismissed the allegations leveled against him, with his supporters saying that former President Mahama had 'sent' his late uncle's son, Yusif Jajah, to lead the constituency, leading to his (Dr. Ahmed's) defeat in the party's primary in the run-up to the 2016 elections.

Attempts to speak to Dr Ahmed on the issue failed.
The NDC has formed a 13-member committee to investigate the cause of the party's historic defeat in the December 7, 2016 polls.

The committee was formed by the NDC's Functional Executive Committee (NEC) and approved by its Council of Elders.

But members of the committee have been met with hostility from angry supporters of the opposition party nationwide, some of who believe the party lost the election due to greed, and as such there is no need for any fact-finding exercise.