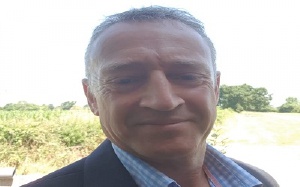 With a commitment to identifying and capturing synergies across emerging markets in Africa and beyond, Principe based Investment Company, Here Be Dragons (HBD) says Ghana is its foremost destination in its upcoming chocolate manufacturing project.
"Accra is a fantastic market for us because of the short distance between us, there is a lot of interest in Cocoa, the market is already sophisticated there, enough to be interested in some of the products we want to develop," HBD CEO, Chris Taxis told this reporter at the exotic Sundy Praia lodge in Principe.

The exclusive interaction with the CEO was part of a five-day sponsored visit and tour by the company for journalists from The Finder, the Ghana Broadcasting Corporation (GBC) and the Associated Press (AP) in Ghana.

Príncipe, about two hours from Accra, lies off the west coast of Africa in the Gulf of Guinea with an area of 136 square kilometres and a population of approximately 7,000.

HBD owns and manages four luxury hotels - Omali lodge in Sao Tome; Bom Bom, Hotel Roca Sundy and Sundy Praia in Principe Island. The hotels are a major tourist attraction for many across Africa and Europe.

Taxis, said "we are committed to something that has synergy and so I'm very interested in how we could do something with Ghana and to learn from Ghana has already got established, at a time when we are fledgling and small in the scheme of things."
The demand for chocolate, he pointed out was fast outstripping supply and so he saw the need to invest further into production. He was confident of striking a partnership with Ghanaian

Chocolate factory in the offing

The company is looking forward to opening a chocolate factory on the island to produce chocolates for the hotels with the determination to export limited amounts to specialist locations within and beyond Africa.

The cocoa value chain, he explained had been divided into three parts- cocoa powder which needs special conditions to maintain their quality, sold at €3 per kilogramme, then cocoa nibs which are very minimally processed and derive from the cocoa bean sold between 25 and €35 per kilo and popular in Europe as a supplement to salads and pastas. Then chocolates which come at between 85 and €125 per kilo were also in high demand.

Transformation products
HBD is developing cosmetic creams, coconut oils, perfume water and essential oils, jams, chocolate spreads, dried fruits such as dried bananas.

According to the CEO, "it's become very challenging because we are now trying to keep up with the demand these products have created. We supply the hotels and a little shop at the airport in Principe."

HBD is looking beyond Principe to supplying some hotels in Switzerland, Italy and the United Kingdom with its products.

"We don't have enough to do big production but we do have enough to do very exclusive special presentations," he said.