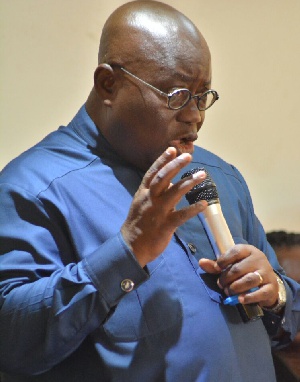 President Nana Akufo-Addo has said he needs all the 110 Ministers and Deputies he has appointed to succeed.
"I don't believe that my government in the Fourth Republic has big numbers in view of the swollen challenges," the President said in an interview with the Daily Graphic and Ghana Television to parry criticism about the size of his government, the biggest in the fourth republic.

According to him, the problems facing Ghana require are huge thus his need for all those he has appointed to fix the country.

"We have a problem and what is the best way? It is better to have men and women capable of serving the nation's interests and to work to grow the economy… If I succeed, you will soon find out the brouhaha is nothing compared to the success."

"I don't believe that any government in the fourth republic has inherited the challenges that my government has inherited, President Akufo-Addo stressed to justify his 110 ministers.
"We are talking about a country with a 74 percent GDP-to-debt ratio, a GHc 2.4 billion debt overhang in the energy sector, persistent decline in growth rate, lowest rate of 2.6 percent growth rated in the agriculture sector over the past 20 years, widespread unemployment, the major issue of corruption and the persistent leakage of revenue in our system."

"We need the cooperation of my party and my country that will allow me to deal with all these issues and already the signs are that this government, in spite of these huge challenges, has begun to put some order in the circumstances of our country."