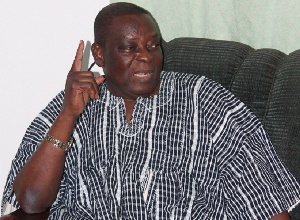 A leading member of the opposition National Democratic Congress (NDC) Mark Woyongo, has stated that he has no intention of contesting for the presidency either in 2020 elections or in the future.
He said it has not crossed his mind to contest in the presidential race with the ruling New Patriotic Party (NPP).

The Former Defence Minister said he will gladly support any member the party chooses to lead them in the 2020 elections.

"No not me I would rather support somebody else, its not something that has ever crossed my mind to contest for the presidency,' he stated.

There is an ongoing internal wrangling in the NDC, as some party members are blaming the former President John Dramani Mahama of sidelining party bigwigs from his campaign team and that he should not be giving another chance to contest in 2020 elections.

But speaking on Ultimate Breakfast Show hosted by Lantam Papanko, Mr Woyongo admonished party members to go to the drawing board to find out the cause of their electoral loss before rooting for their favourite candidates to lead the party in 2020.
He suggested that the candidate should be a well marketed person and not an unknown figure, disclosing that he will support Mr Mahama to win if he expresses interest.

'If Mahama is the choice of the people, I don't have any problem at all, I will support him if he shows interest to contest,' he disclosed.

Asked if he was sidelined when they were in power, he said, 'I don't think I was sidelined when we were in government and I don't think anybody was sidelined. It wasn't difficult for me to have access to the former President, if you are a senior man in the party, obviously you should have access to him, whenever I go to his house or office, he will make time to see me, and I think its applicable to everybody'.

He admitted that is a seeming division in the NDC saying political parties in the advanced countries experience same.

'There is no political party that hasn't gotten divisions, even in the advanced countries they do, same like the President Donald Trump, others don't. There are problems in every party especially the party that has lost elections, there are bound to be so many speculations as to why the party lost the 2016 elections, but it depends on how it is handled. And I don't think the divisions in the NDC are something that cannot be managed,' he said.
Mr Woyongo entreated the rank and file of the party to exercise restraints as the former Minister of Finance and Chairman of the National Development Planning Commission, Prof Kwesi Botchway's committee comes out with its report.

He failed to comment if there were loopholes in the former President's administration saying he would rather disclose it to Prof. Botchway's committee.

'Well I have my reservations and I don't think its proper to say it on air, I would rather give it to the committee,' he said.