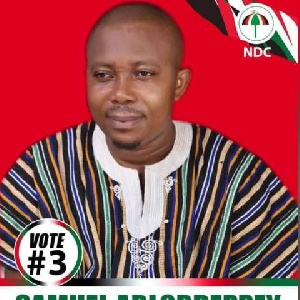 Samuel Ablordepey, a broadcast Journalist with the Network Broadcasting Company (Radio Gold 90.5), in Accra has stated that he has the pedigree that will catapult the gains of NDC in the Greater Accra Region.
"I believe that I am the best for the position and if I am elected in the forthcoming NDC polls, I will bring my expertise and experience to the doorsteps of all to recapture power in the 2020 general polls."

Mr Ablordepey who was speaking exclusively to the Ghana News Agency on his political prowess in the capital said he was a grassroots man who had over the years endeared himself to the hierarchy of the party and believed his contributions as a Regional Communications Officer could soar their prospects in 2020.

He said he had over 10 years -experience as a political reporter and due to his affinity to the National Democratic Congress (NDC) and his unalloyed interest in party assignments, he had the opportunity to become part of the National Democratic Congress (NDC) 2008 Presidential Candidate, Professor John Evans Atta Mills and John Dramani Mahama campaigns, that toured the nick and cranny of the country.

Mr Ablordepey said he eventually became the Presidential Correspondent at the Castle and continued with President Mahama from the Castle to the Flagstaff House.

"Between 2008 till 2017 January 7, I was Radio Gold's Presidential Affairs correspondent. My stay at the Presidency exposed me to international politics/relations, political communication and government communication and I represented my Media House at the United Nations General Assembly, covered African Union summits and ECOWAS, and attended other high level meetings in Ghana and outside."
Mr Ablordepey was among a group of Journalists who joined the ECOWAS to monitor the Nigeria General Elections in 2015.

"To win the 2020 elections, the National Democratic Congress (NDC) needs a communications officer in Greater Accra who will be visible and show leadership; and also to develop up communications structures that will enhance the ability of all party communicators in the region for an effective and efficient communications.

"Therefore the National Democratic Congress (NDC) will need somebody with the proper knowledge on political communications structure, policy and principles to rally round party communicators from the Branch to constituency level and boost their capacity.



"Somebody who will use research, timeliness, immediacy and a sense of urgency to make the National Democratic Congress (NDC) the most attractive party communications in Greater Accra effective and efficient; and ready to win political power in 2020 through the communications front. "
Samuel Ablordeppey holds a degree in communication studies from the Ghana Institute of Journalism (GIJ), Diploma in Journalism from Trans Africa College and another Diploma in Journalism from the British College of Journalism, UK.



Due to his hardwork and dedication to the National Democratic Congress (NDC), he was given a certificate for commitment to the growth of the National Democratic Congress (NDC) in the Ayawaso constituency by Prof. John Evans Atta Mills and Dr. Mustapha Ahmed in 2004.