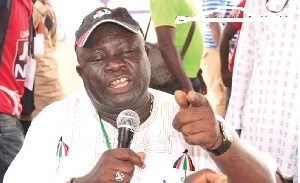 "Yes! It is true Rawlings brought me into the National Democratic Congress (NDC), but that does not mean that I should eat his faeces", this is according to Afrifa Yamoah Ponkoh, Former Municipal Chief Executive (MCE) of Ejisu-Juaben.
He said former President Jerry John Rawlings and Martin Amidu are on the path of collapsing the NDC if care is not taken.

"If Rawlings brought me into the party so what…if he brought me into the party and goes to ease himself and bend down should I eat his excreta? He has insulted us enough with corruption since the era of President Mills through to President Mahama…for 8 good years we have allowed ourselves to be insulted enough", he said on Okay Fm.

Yamoah Ponkoh faulted the former President for arming the then opposition parties with enough ammunition to kill the NDC party prior to the 2016 elections by ensuring that it has been taken into opposition yet still continues his incessant attacks; lauding Dr Valerie Sawyerr for her recent comments as well.
"When we were campaigning, he was personally campaigning against the party and we lost. He contributed heavily to the disgraceful defeat of the party. We have nowhere to go again and we must fight back which has started with Dr Valarie Sawyer", he added.

The former MCE alleged that Rawlings is determined to ensure that the NDC never gets to win power again calling on the rank and file of the party to rise up against the machinations of Rawlings and his cohorts to weaken the party in order to take over.

"Let us be bold and face the man that his utterances are inimical to the growth of the party for him to immediately stop or he will incur the wrath of others". He warned.