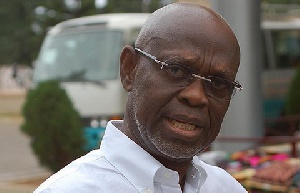 The deputy Minority Leader James Klutse Avedzi has disclosed that he expects the much-awaited Kwesi Botchwey report on the cause of the opposition National Democratic Congress' historic defeat in the December 7 elections.
The leadership of the NDC immediately after the election results were certified and declared by the Electoral Commission (EC) formed a 13-member committee to probe the party's woeful performance.

It had been five months since the committee was established and the deputy Minority leader who is also the Member of Parliament for Ketu North, divulged in an interview on Morning Starr Tuesday that the committee is likely to wrap up its works by close of May 2017 and submit its report.

"It should not be beyond this month. Probably by the end of this month it [the report] should be out," he told Morning Starr Host Francis Abban, adding that "I'm not sure but that is my expectation."

ormer President John Mahama was defeated by the New Patriotic Party's Nana Akufo-Addo in the December 7 elections, in what many have described as the worst performance put up by a sitting President in an election.
The NPP Flagbearer secured the presidency after a third time, beating Mahama with 53.85 percent of valid votes cast. Nana Akufo-Addo rode on the back of the valid votes cast to become Ghana's fifth president under the fourth Republic.

Mahama, who ran on the ticket of the governing National Democratic Congress (NDC), secured 44.40 of valid votes cast. The difference in votes between the two main contenders was a little over 1.1 million, one of the highest to have been recorded against a sitting President in recent times.

The NDC also lost most of its seats in Parliament pushing them to be minority side in the law making House.

According to the NDC, the committee is expected to conduct hearing among the rank and file of the party, as well as solicit for views from members of the party across the country for review and restructure itself.