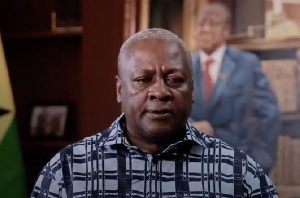 The third National Vice Chairman of the ruling New Patriotic Party [NPP] Michael Omari Wadie has said he dislikes discussing issues involving former President John Dramani Mahama.
"I don't like discussing former President John Dramani Mahama because I see nothing about him that needs to be talked about," Omari Wadie categorically noted.

"To be frank, what does he have that will or can prevent the current government from winning the 2020 elections to him?" he quizzed.

He said Ex-president Mahama's comeback is the NPP's joy because it will give them the greatest opportunity to bring out the rot in him and stay in power for a long time to achieve their planned developmental projects for this country.
In an interview on UTV's 'Adekye Nsroma' programme, Omari Wadie cautioned members of the largest opposition party to stop making unnecessary arguments against NPP based on Mahama's flagbearership declaration.