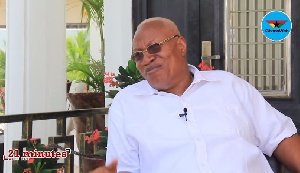 An aspiring NDC Presidential Candidate, Prof. Joshua Alabi, has stated that he has a rich record in youth development, mentorship and grooming during his tenure as Vice Chancellor of the University of Professional Studies, Accra.
Prof. Alabi was speaking on Asuogyaman Fm, a radio station in the Eastern Region about his ambition to lead the NDC and Ghana.

When asked whether he will give opportunities to the youth to be in leadership positions under his tenure as President, he responded, "I have always wanted young people to aspire to greater heights. I became a Minister in my 30s and I performed creditably well. Besides, I work with a dedicated team of young people and I have full confidence in them."

"When I was the Vice Chancellor, I was unhappy that my students only limited themselves to the positions of Treasurer and Financial Controller in the National Union of Ghana Students (NUGS)."
He continued, "hence, I encouraged, motivated and pushed them to aspire to the highest student office in Ghana and even Africa. As a result, out of the over 70 tertiary institutions in Ghana, UPSA alone produced three NUGS Presidents and two Secretary-Generals of the All Africa Students' Union (AASU) under my tenure as Vice Chancellor."

Prof. Joshua Alabi added that "many people don't know about my track record in youth development. I know how to invest in the youth and help them into leadership."

The NDC Presidential Candidate aspirant noted that he has also been a mentor to many young people who were groomed under his tutelage over his 35 years in public service, who can be found in various fields of endeavour in Ghana and beyond.