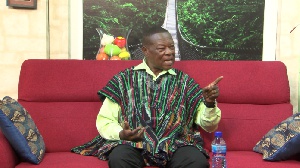 Kofi Adams, the current National Organizer of the of the opposition National Democratic Congress (NDC) will get a run for his money as his predecessor indicates his intentions to retake the position.
Yaw Boateng Gyan, in an interview with UTV's Yaa Konamah stated that he went into political hibernation in order to allow the current executives work but the time is right for "me to retake my seat as the National Organizer".

"…there was a contest and the party decided on who to organise us. I respected that outcome and gave way for the newly elected executives but I believe i still have a lot to offer the party so i want stage a comeback" he said on the 'Mpu Ne Mpu' segment on Adekye Nsroma.

Yaw Boateng Gyan lost the National Organizer position to Kofi Adams, who was then a Spokesperson of the Founder of the party, Jerry John Rawlings, in a hotly contested election which was characterized by allegations and mudslinging between the incumbent and his challenger Baba Yara Sports Stadium in Kumasi.
At the end of the ballot count, Yaw Boateng Gyan had lost by 1,800 votes.

If this background is anything to go by then we are sure to have another keen contest for the National Organizer post in the upcoming National Delegates Congress of the NDC.