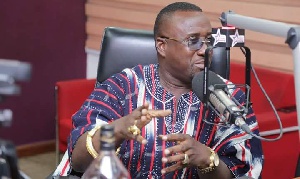 Chief of Akwamu Adumasa, Nana Ansah Kwao IV, has disclosed he was kicked out of many schools in Ghana because he had Dyslexia, a condition that made it difficult for him to express himself on paper.
Asked by Bola Ray on Starr Chat on Wednesday which schools he attended, Nana said he attended schools such as Jack N Jill, Accra Academy, Martin De Porres, North Ridge School, Mpraeso Secondary among others because he struggled to express himself on paper hence he was kicked out of one school to the other.

"I struggled and I was kicked out of schools because I was Dyslexic, I struggled before I could not finish my 'O' level. I can't put the things I express on paper and I didn't realize I had Dyslexia back then until I sent my son to school in the UK and he exhibited the same traits and the teachers informed me about it.

So back here in Ghana the schools couldn't detect I was suffering from Dyslexia, so I got kicked out of one school to the other. I have serious Dyslexia. I could only write in capital letters, my handwriting was bad. I really struggled," he told Bola Ray.
Dyslexia is a lifelong condition that makes it difficult for people to read. Dyslexia is mainly a problem with reading accurately and fluently.

Kids with dyslexia may have trouble answering questions about something they've read. But when it's read to them, they may have no difficulty at all.

Dyslexia can create difficulty with other skills, however. These include Reading Comprehension, Spelling, Writing and Math.