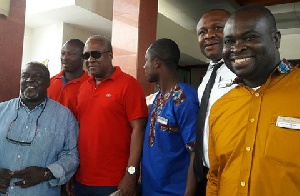 NDC's Kumasi-based popular serial caller, Frank Appiah popularly known as 'Appiah Stadium' has denied media reports suggesting that former President, John Dramani Mahama secretly met top guns of the NDC in Kumasi to shove his 2020 agenda down the throat of party members in the region.
Appiah Stadium said, the report churned out by the Daily Guide newspaper is false as Mahama did not visit Kumasi to ostensibly gather momentum for running the presidency again.

Speaking on Anopa Kasapa on Kasapa 102.5 FM, Appiah Stadium wondered how he could be considered to sit among party bigwigs to discuss Mahama's come back as being speculated by sections of the media, when he's "nobody in the party."

He said "I only took my daughter whom I named her after the former President- Juanita Mahama to see her grandfather. And so if you saw me in a photograph with Mr. Mahama, it doesn't mean I was part of the so called secret meetings being speculated by Daily Guide"

According to him, those behind the wild speculations are the ones already getting cold feet about his interest to run again.
"He came to Kumasi on Mother's Day and I can tell you that he didn't even spend more than 12 hrs in Kumasi and he jetted off to Accra. The fact is John Mahama has massive followers so no wonder people are clamouring for him to run again. It was a wonderful moment at the Golden Tulip in Kumasi because revelers scrambled just to take a photograph with him, including NPP members- Manhyia North MP, Chief Amankwah's mother was there and she even took selfie with Mahama," he said

Reports were rife that ex-president went to Kumasi, the Ashanti Regional capital, in a private jet last Sunday where he is alleged to have held secret meetings with several top guns in the NDC about his intention of running for the presidency again.

The venue of the said meeting, reportedly held Sunday evening, remains a mystery, according to the Daily Guide as Mr. Mahama's camp doesn't want their potential opponents in the party to monitor their actions and strategies.

The main agenda for the confab was reportedly about what could be done, in terms of strategy and planning, to help Mr. Mahama become the NDC presidential candidate and get the support of the opinion leaders.