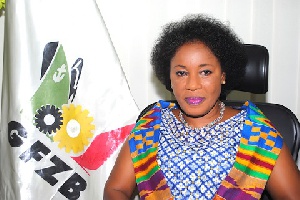 NDC's Anita Desoso says she gained her popularity in Ghana's politics as a 'serial caller' before rising through the ranks of political leadership to be the Deputy Chairperson of the country's largest opposition party.
According to the outspoken National Democratic Congress stalwart, she together with some individuals within the NDC started the serial caller's crusade in Ghana when their party tasted defeat in the 2000 general election.

Their aim, she said, was to "rant" and "distract" the then NPP government led by former President John Agyekum Kufour from pursuing any meaningful agenda.

Anita Desoso, however, said on NEAT FM's morning show 'Ghana Montie' that, as the 'Queen' of serial caller's movement, her followers were often times trained to speak to issues "which even doesn't concern them".

"I am the Queen of serial callers and I know how my people behave. We speak on uninvited issues. Some doesn't even make sense but we have to speak to that issue. You don't need to invite us before we comment. We just want to be heard and be popular," she said.

Anita Desoso made this comment after tagging Ghana's second gentleman, Dr Mahamudu Bawumia as a "serial hapless serial caller" who has abandoned his position and duty as Ghana's Vice President to trade in "loose talks" aimed at former President John Dramani Mahama.
John Mahama has in recent times been criticizing the incumbent for not fulfilling its numerous promises after pleading with the electorates to vote him back to power to continue the good works he started.

But Vice President Bawumia questioned if "that incompetent one [Mahama] wants to come back again".

Bawumia's responses did not go down well with Anita Desoso who repeatedly likened the Vice President Bawumia to political serial callers who call into FM stations to rant over issues.

"Bawumia [Vice President] wants to overtake me now, in fact he is a serial talker and a hapless serial caller. What is his position now, a vice president or a serial caller?" She questioned.