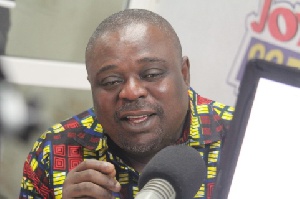 Deputy General Secretary of the opposition National Democratic Congress (NDC), in charge of Operations, Koku Anyidoho has confirmed he will contest for the General Secretary position of the party.
According to him, the incumbent General Secretary of the party, Johnson Asiedu Nketia aka General Mosquito has told him, he's not interested in vying for the same office when nominations opens nex year.

"The beautiful thing is that he gave me his endorsement that he'll not contest again and that is the beauty of it. He's given me his blessing to contest as General Secretary. I'm going in continuity and Asiedu Nketia's legacy shall forever remain strong in the NDC," Koku told Neat FM Monday.

He considers himself the best replacement for Asiedu Nketia who's noted for being witty and and bullish in his political arguments and also has a way of whipping party members into line on issues.

"Asiedu Nketia has done a great job for the NDC, what I've learnt from him I can't even put a ruler to it. Briliant boss, brilliat General Secretary who has done a lot for this party. I'll step in his shoes and continue to support him and carry this party from where he'll be leaving it."
There has been a popular call by party members for an early congress after the NDC's defeat in the 2016 presidential and parliamentary elections held on December 7.

Several party members have expressed their intentions to run for positions in the party when nominations open next year.

The NDC recently held a National Executive Committee (NEC) meeting during which the party discussed ways of wrestling power from the New Patriotic Party come 2020 elections.