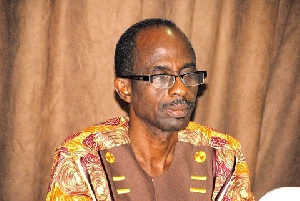 National Organizer of the opposition National Democratic Congress (NDC) Kofi Adams has rubbished rumours that he has a strained relationship with the party's General Secretary, Johnson Asiedu Nketiah.
Former National Organizer of the NDC, Yaw Boateng Gyan has attributed the frosty relationship between the two national executive members of the party as a result of deep-seated differences, as a contributory factor to the NDC's lose in the 2016 general elections.

The NDC lost the 2016 elections miserably to the New Patriotic Party (NPP) led by the Nana Addo Dankwa Akufo-Addo.

Akufo-Addo beat the incumbent John Mahama with over a million votes to win the presidency with the NPP also having almost an absolute majority in Parliament after snatching several seats from the NDC.

Even as the Prof. Kwasi Botchway Committee investigating what led to the party's shameful defeat continues with its work, members of the NDC have in the past few days traded accusations against each other.

Speaking to Kasapa News, Mr Yaw Boateng Gyan said a lot of things went wrong prior to the elections which set the NDC up for defeat.
"We should put certain things right and don't behave like ostriches, this is where sometimes people get some of us wrong. We should all know that we contributed to the NDC painful loss in that election as we did our Flagbearer a great disservice. Before we could go to the congress in Kumasi, who in this country was not aware that, at the time that Kofi Adams was the deputy General Secretary he had issues with the General Secretary, Asiedu Nketiah. This was public knowledge…everyone knew there were deep-seated problems between the two, they really had differences. Both had quarrels and banter some of which even happened on radio, following which they were called by senior party members and spoken to."

He continued: "I think we couldn't fully solve some of these problems, those of us who could speak to these issues were voted out of the executive body at congress. So with our exit, it was as though a cat and mouse game was being played at the Party Headquarters."

But reacting to the allegation on Asempa FM's Ekosii sen show, Kofi Adams stated that his working relationship with Mr Asiedu Nketia has been one of the best seen among fellow party executives.

"As far as I know we've never had any such issues. We discuss programmes and meetings together and we've had such an excellent working relationship. If he's told Yaw Boateng Gyan that he has issues with me, then that is another matter, but I doubt…this is one of the many lies that are being trumpeted about. Other colleagues executive members know how I relate to my General Secretary."