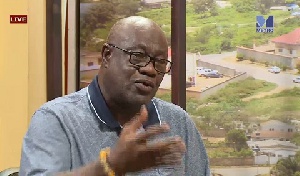 Former Minister of Information, Fritz Baffour, has rejected suggestions that he has betrayed former president John Dramani Mahama as well as former Kumasi Mayor Kojo Bonsu, by endorsing Mr Alban Bagbin for the flag bearer slot of the opposition National Democratic Congress (NDC).
Addressing a press conference in Accra on Monday, 15 October 2018, Mr Baffour said he has availed himself of work for his colleague and he is proud to be part of Mr Bagbin's team as Director of Campaign and Communication.

He emphasised that his new role is part of the work for the NDC but "as to the betrayal, it is very unfair to me and the previous administration".

He explained that he came onboard the previous NDC administration as a Member of Parliament, adding that it was the prerogative of a president to choose who he wants for any position.

He indicated that he was appointed as a minister by the late former President John Evans Atta Mills, "and at the end of my first term, a new team came into being".

Mr Baffour pointed out at the press conference that some people thought he was peeved for not getting an appointment under Mr Mahama's tenure.
He made it known that he chose to serve as MP for Ablekuma South to the best of his capacity.

To him, "It is not the question of turning my back on the previous president [Mr Mahama]", adding: "He is someone I know and I respect and the fact that he is standing [for the flag bearer slot] is very much his right".

Mr Baffour, who was also part of the team that followed Mr Bonsu to the office of former president Jerry John Rawlings to inform him of the football administrator's intention to contest in the race, said Mr Bonsu is a friend who was already aware that he is helping Mr Bagbin.

"Kojo Bonsu and I have been friends dating back a long time and he knew that I was with A.S.K. Bagbin and he said if I could help him along and I said why not, it's always a pleasure to see our leader and founder Jerry John Rawlings and it was a good opportunity to re-engage and meet with him. So, as I said, I am a member of the NDC and I went as a member of the NDC and I have not dumped him [Mr Bonsu]," he explained.