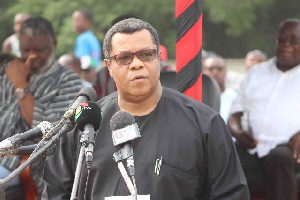 One of the flagbearer hopefuls of the opposition National Democratic Congress (NDC) Goose Tanoh, has served notice he will not accept running mate position in the event that he loses the contest later this year.
According to Mr. Tanoh, he is in the race to win but in the unlikely event that he does not make it as the NDC's flagbearer for the 2020 presidential and parliamentary elections, he will revert to what he has always loved doing.

Mr Tanoh added he knows his campaign team will not be happy hearing that he is not interested in any running mate discussion but that is his position.

Many have tipped former President John Mahama as the likely candidate to win the NDC primary and event that this happens, Mr Tanoh says he will reject any offer from him to partner him for the elections.

Speaking on Accra-based Asempa FM "Ekosi sen" programme on Monday, the NDC stalwart who once left the party to form another but rejoined in 2012, said he will go back to work at the grassroots level to continue the reorganization of the party.

Mr. Tanoh, who founded the Reform Party, argued that life is not all about being in government per say adding his organizational ability is not in doubt as a trained cadre.
On the contest proper, Mr Tanoh also revealed former President John Mahama is in the lead marginally (34 percent) as far as the race to lead the largest opposition party was concerned but was quick to add that, he will at all cost beat him on the day of the election.

The Reformed Party founder said Mr. Mahama led in the research because as at the time the so-called survey was conducted, he hadn't declared his intention to contest.

He continued by saying that since his declaration, his team has been working hard assuring that on the day of the election, he will come out victorious. Not mentioning anyone of the aspirants in particular, Mr. Tanoh threw a jab saying the "contest was not a beauty contest".

Mr Goosie Tanoh is one of the frontrunners of the presidential primary to be held December this year. He will be contesting against the likes of former President Mahama, Sly Mensah, Prof. Joshua Alabi, Deputy Speaker of Parliament Alban Bagbin and a few others.