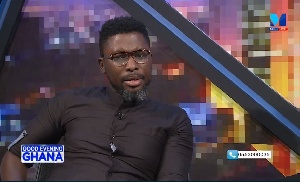 Outspoken and controversial political activist and NPP member Kwame Asare Obeng, widely known as A Plus has debunked reports suggesting that the Bureau of National Investigations invaded and raided his residence.
A Plus who is currently out of the country admitted that the BNI had indeed been to his house howbeit at Wednesday afternoon and Thursday dawn to invite him over 'for a friendly chat' but realized he was absent; and not for a raid as reports earlier speculated.

Posting on his Instagram page, he indicated that "They have been to my house twice. Wednesday afternoon and Thursday dawn. I'm not in Ghana so they left a message that they were sent by the director of BNI to invite me for a "friendly chat." (I don't know why they came at dawn to invite me for a friendly chat though)."

He firmly averred that he will 'walk' in to the Bureau and 'walk' out since he would not be intimidated by anyone regardless of the status.

"As for me Kwame A Plus, there is not a single person in that country called Ghana who can intimidate me irrespective of status. The worse any coward can do is to hide and kill me. In fact I expect that every day. I'm not scared at all.


I will "walk" to the BNI when I arrive in Ghana and "walk" out of there. I'm on a mission to groom a new crop of young Ghanaians who are law abiding, fearless and resist the oppressor with all their strength and all their might as instructed by our founding fathers in the national anthem."

A Plus further charged the youth to be bold to rise up against oppressors and not be intimidated by people voted into power by the populace.