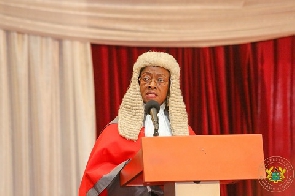 Chief Justice of the Republic, Justice Sophia Akuffo has cautioned magistrates and judges to at all times adhere to their code of conduct in the discharge of their duties saying any breach of the provisions of the code resulting in any acts of misconduct or unprofessional conduct will be dealt with swiftly and in accordance with law.
The Chief Justice issued the caution when she addressed a swearing-in ceremony that ushered in nine (9) professional magistrates to the bench. The ceremony was held at the Supreme Court Building.

"A good quality judge conducts proper case management of cases, including championing the course of Alternative Dispute Resolution (ADR) to ensure that only the most intractable cases reach the point of trial and judgement, to assure speedy resolution. Our job is to lead the various actors in the courtroom in the United pursuit of truth and justice, guided by the principles of equity and fairness," the Chief Justice said.

Justice Sophia added that, "It is not the job of Magistrates or Judges "to please, but if done right, our decisions must bring satisfaction. This requires extreme dedication, integrity and unyielding adherence to the Code of Conduct for Judges and Magistrates."
The Professional Magistrates

The nine professional magistrates who assumed office at the bench today are Their Worships, Saeed Aliata, Osman Abdul-Hakeem, Juliet Osei Duedu, Divine Kwaku Ahiadu. The rest are Eric Daning, Linda Amissah, Priscilla Yeboah, Kwaku Baah Frempong and Kofi Owusu Sekyere. The Chief Justice reminded the new magistrates of the necessity and nobility of the call to serve on the bench. This awareness she said must guide their actions throughout their years on the bench.