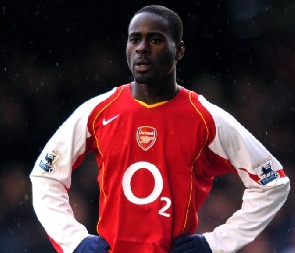 Former Arsenal and Black Stars player Quincy Owusu-Abeyie confessed that his life would have taken a totally different turn if Arsenal hadn't signed him.
The 33-year-old has retired from football and is currently focusing on his rap career. He goes by the name 'Blow' and during his interview with The Athletic, he revealed how he felt when Arsenal showed interest in him.

"If it wasn't for Arsenal, maybe I would have led definitely a different life. Maybe I would have just a normal nine to five, maybe I would have been a street guy, I don't know… but fortunately, I got that phone call."
"I was born and raised in Amsterdam. Bijlmermeer is the area — it's basically the 'hood. It wasn't easy. Sometimes you might be on the block and you might hear a gunshot, or you might hear that someone got stabbed. When I got that phone call, I said 'Arsenal? Who doesn't want to play for Arsenal?!"

"That moment when I met Arsene Wenger is when it sort of sank in, when I realised… It's not on TV anymore. So I looked at my agent, and my agent looked at me, and it was like, 'Boy… I gotta get the job done'."