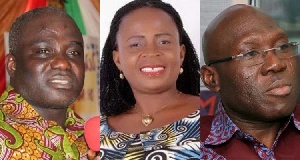 MPs alleged to have received double salaries while serving as Ministers in the Mahama administration will not go scot-free, Special Prosecutor Martin Amidu has said.
Some of those MPs include Minority Leader Haruna Iddrisu, Second Deputy Speaker Alban Bagbin, who nurses a presidential ambition, as well as Wa Central MP and ex-minister of Public-Private Partnerships, Dr Rashid Pelpuo; Inusah Fuseini, former Lands and Natural Resources Minister; Comfort Doyoe Ghansah, former Minister of State in charge of Social and Allied Institutions; Mr Eric Opoku, former Brong Ahafo Regional Minister and Fifi Kwetey, former Deputy Minister of Finance.

They have been interrogated by the Criminal Investigations Department of the Ghana Police Service and cautioned for stealing.

The affected MPs and the Minority in parliament have denied the allegation, insisting this is a clear case of political witch-hunt.

Twenty-five lawmakers were initially invited by the CID, but 18 of them were later asked to disregard that invitation.

At a press conference addressed by the Minority Spokesperson on Finance, Cassiel Ato Forson, the Minority said the move was an attempt by government to hound and intimidate them into silence by using the CID to embark on a fruitless fishing expedition against their colleagues.

Despite their denial of wrongdoing, Majority Leader and Minister of Parliamentary Affairs, Osei Kyei-Mensah-Bonsu, has said his opposite number met President Akufo-Addo privately to beg for mercy, a claim Mr Iddrisu has denied, although he admitted having a private conversation with the president but the contents of which he refused to divulge.


Speaking on the matter for the first time, Mr Amidu told Accra-based Citi FM's Umaru Sanda Amadu that: "What is worrying for me is the knowledge that some people are even talking to the president to compromise so that crime will be overlooked because they are Members of Parliament".

"… Why should a Special Prosecutor be prosecuting ordinary Ghanaians and your honourables will be involved in these things; then they will be talking to the president to wash it up. Then I have no need sitting here. I won't even have the conscience to continue.



"Will I have the conscience to prosecute any other body for corruption if the CID finds something prosecutable and are not allowed to prosecute because Members of Parliament are involved? That is not fair," the former AG said.

He continued: "The ordinary man going to jail is a human being like a Ghanaian. I don't like this whole idea about political elite. Honourables you are supposed to be, and then you are just fleecing the country. Indeed, that is an offence of abuse of office for private gain".


The Citizen Vigilante, as Mr Amidu is known by his moniker, said he was once overpaid as a Deputy Minister but returned the extra money and, thus, expected same conduct of the affected MPs.

"Money was ever paid into my account… When my bank notified me I told them to return it because that is not what me and the Attorney General agreed. I could have kept it. This is what they should have done. You don't keep the money for six months, one year, two years or three years, you've left office, one-and- half years, you've not made any efforts to return it. Then when the CID begins seeing it now you are rationalising it and yet when the ordinary man takes plantain one bunch, he goes to jail for 15 years. So, what is the political elite telling us?"

"If it's been happening since 1992 and no one has seen it, now it has been seen, those responsible should bear the consequence," he added.