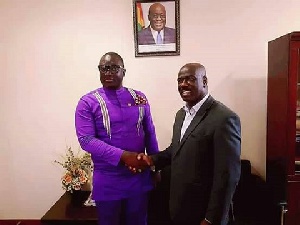 Tue, 20 Mar 2018 Source: Dickson Boadi
Vice President Mahamud Bawumia on February 11, announced the government 's plans to install security cameras at all police stations spread across all 216 districts in the country.
The move according to the Vice President forms part of efforts by the government to retool the Police Service and enhance security at police posts following attacks on some police stations.

However, an illustrious businessman, Nana Kweku Ofori Atta is already living up to the president's words that "We should be citizens and not spectators".

The young Ghanaian entrepreneur has distributed security cameras and accessories worth thousands of Ghana cedis to more than five police stations in Accra.

The CEO of Avontech Security has already donated security cameras and accessories worth thousands of Ghana cedis to more than five police stations.

With an innate motivation to help the government deal with the upsurge in robbery cases and attacks at police stations, Nana Kweku Ofori Atta has visited seven police stations to donate CCTV cameras and accessories.

The beneficiaries are the Tesano District Police Headquarters, Osu District Police Headquarters, La Police District Headquarters and Nima and the Kwabenya Police stations which was attacked by some unknown men recently.
When quizzed on why he has taken up such philanthropic works, Nana Kweku Ofori Atta explained that he feels mandated as a citizen to help the government combat crime and enhance the security situation in the country.

"Nana Akufo-Addo made in his statement during his swearing in as president of the Republic that, we should not be spectators but good citizens and on that merit, I think I am supposed to help protect the integrity of our country in terms of assisting certain agencies to tighten the security apparatus of our country". I embarked on this journey even before the vice president made the statement. Indeed my initiative has fallen on good grounds".

Nana's works haven't gone unnoticed. The Tesano, Osu and Nima District police commanders have commended Avcontech Security for donating CCTV cameras to the stations.

Other police and security chiefs such as Inspector General of Police, David Asante Appeatu and CID boss, DCOP Maame Yaa Tiwaa Addo-Danquah have also lauded the efforts of the young businessman.

Minister of Information, Mustapha Hamid, Director of Diasporan Relations at the Office of the Presidency, Akwasi Awua Ababio and Deputy Interior Minister, Henry Quartey have commended the businessman for his good works for Mother Ghana.
Source: Dickson Boadi