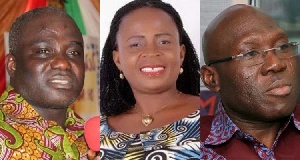 The Caucus for Democratic Governance (CDG), says investigation of double salary allegations should not be limited to Ministers of State who served from 2013 to 2016.
"Reliable sources show that there were many of such double payments during former President Kufuor's time. Why has the period 2000 to 2008 been left out?"

Dr Ebenezer Kofi Hayford, Chief Convener of the CDG, said this on Tuesday in Accra, when he briefed journalists on the topic, "Corruption is Indivisible, Double Rent Allowance Scandal must be probed."

He said there were gross inefficiencies in the salary administration in the public sector that had to be corrected, adding that those inefficiencies only became visible, where the structures at the Controller and Accountant General's Department did not adhere strictly to the clauses of Article 71 of the 1992 Constitution.

Article 71 (i) and (i) of the 1992 constitution stipulated, that salaries and allowances of Executive, Legislature and Judiciary, paid from the Consolidated Fund, would be determined by the President, on the recommendation of a committee of not more than five persons, said Dr Hayford.

He said the five persons, were also to be appointed by the President, acting on the advice of the Council of State.

Dr. Hayford said in determining the salaries of the President, his ministers and political appointees, as well as members of the Council of State, the Constitution stated that parliament would determine the salaries, based on the advice of the same committee.
"Article 71 clearly shows that many of the lapses and inefficiencies in the payments is as a result of the disconnect between the Parliamentary Service Board and the Controller and Accountant General's Department," he said.

Dr. Hayford observed that the situation had resulted over the years in billions of Cedis of the tax payer's money going down the drain saying, "indeed as long as there is no centralisation or single payroll system for all Article 71 office holders, there will always be this problem."



The Chief Convener of the CDG, touched on what he termed the politics of the issue and questioned why the CID should investigate the nine members of parliament for stealing.

"Where is the element of stealing? Lack of administrative coordination leads to overpayment. The simple issue is to ask the Members of Parliament to refund the extra amount paid," he said."


He questioned why the CID was investigating "this double payment allegation instead of the Parliamentary Board".

Dr Hayford said the CID was also silent about the double rent allowance payment involving NPP Ministers of State and added, "is it the political interest and victimisation of the opposition that is important or payments into the Government coffers?"



He stressed that it was important to investigate all cases of corruption without any partiality, because the aim of such investigations was to recover lost funds to the state.