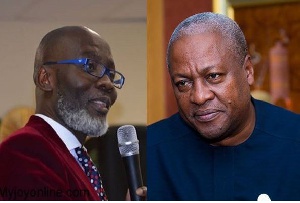 Private legal practitioner and leading member of the New Patriotic Party, Gabby Asare Otchere-Darko has taken a swipe at former President John Mahama stating that investors indeed are scared of starting businesses in a corruption-riddled country, instead, they move to a place where the country is well organised and has a system that is business friendly.
According to him, President Akufo-Addo is working effortlessly to promote Ghana in countries such as Abuja, Abu Dhabi, Berlin, London, among others.

Currently, Ghana and the United Arab Emirates (UAE) have signed five co-operation agreements aimed at deepening the bonds of friendship between the two countries.

In a Facebook post sighted by GhanaWeb, he said, "John Mahama is right. Investors won't go where there is corruption. They will go where there is a plan, predictability, stability and the system is friendly for business. Keep faith with Akufo-Addo"

Mr. Otchere Darko's comment was in response to former President Mahama's statement made on October 30, 2019, stating that the high level of corruption in the country is deterring diasporans from investing in the country.

John Mahama made the aforementioned statement during the 40th anniversary of the Ghana Union UK in London.
According to the former president, the high level of corruption in the country is due to the lack of commitment from leadership.

He stressed that although there are institutions meant to fight the canker, it takes leadership and commitment to win the fight against corruption.

Read below Gabby Otchere-Darko's post on Facebook