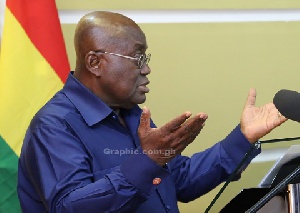 Freelance investigative journalist Manasseh Azure Awuni has suggested that the inability of President, Nana Addo Dankwa Akufo-Addo's government to punish corrupt appointees under John Mahama's presidency is why the National Democratic Congress (NDC) has is tagging him as corrupt.
The award-winning journalist asserts that if President Akufo-Addo had punished thirty percent of "the high-level corruption of the Mahama era, the NDC wouldn't be accusing it of doing little to fight corruption."

On Tuesday, September 10, 2019, at a Press Conference, the NDC through its General Secretary Johnson Asiedu Nketia, the NDC accused the President of allowing corruption to fester under his government instead of fighting it. The NDC added that the President was also engaged in clearing officials of his involved in corruption instead of punishing them.

Earlier, the President had stated strongly that he was very much committed to the fight against corruption and was doing his best possible to fight it.
But Manasseh Azure Awuni has argued that massive corruption in the erstwhile John Mahama government has not been punished that has given the NDC the chance to accuse the President of doing little in the fight against corruption.

Mr Awuni, a keen fighter against corruption, has uncovered many alleged acts of corruption in his investigative works as a journalist of repute.