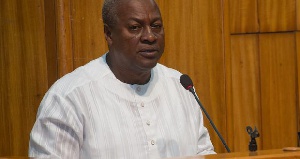 n activist of the opposition National Democratic Congress (NDC), Keglo Hamenya has blamed the humiliating defeat of the umbrella family, to former President John Mahama's dead goat syndrome comment.
The comment which was listed in Africa's best quotes last year, by the BBC, he noted caused their defeat.

The spokesperson for Action Movement-a pro-NDC group said, ''that statement prevented well NDC people who wanted to put in an advice or come close to tell him [Mahama] things that were not being done properly.

The former President made the "dead goat" comment while he was addressing Ghanaians in Botswana in March this year in response to industrial actions in Ghana.

He [Mahama] compared himself to a dead goat saying: "I have seen more demonstrations and strikes in my first two years. I don't think it can get worse.
It is said that when you kill a goat and you frighten it with a knife, it doesn't fear the knife because it is dead already. I have a dead-goat syndrome."

The comments drew wild criticisms from some Ghanaians who, chided Mr. Mahama for failing to empathise with them despite the challenges that confronted them.

Speaking in an interview on Frontline on Rainbow Radio 87.5Fm, the activist said, ''at a point in time, the former president was doing very well by encouraging Ghanaians to patronize made-in-Ghana goods but close to the 2016 elections, all the materials he used were imported from China.

The number of T-shirts printed by the NDC for the campaign should have been awarded to our supporters as part of efforts to create more jobs. He indicated, the group is on a mission to ensure that the party elects a more credible candidate and a grass root person for the next election.