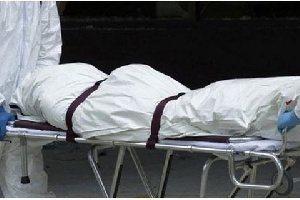 Management of the Komfo Anokye Teaching Hospital (KATH) has released detained corpse of a 41-year old Muslim man Yahaya Mutaikelo who passed away at the hospital while receiving treatment for injuries sustained in a road accident.
The body of Yahaya Mutaikelo was detained two weeks at KATH morgue after his family couldn't afford to pay off the GH¢15,600 [fifteen thousand, six hundred Cedis] debt incurred from about two months of admission and treatment until he died on September 18, 2017.

The body of Yahaya Mutaikelo was released to his family after the Member of Parliament (MP) for Kwabre East Constituency Hon Francisca Oteng Mensah paid 5,000 Ghana Cedis while the family added 5,000 Ghana Cedis to make it 10,000 Ghana Cedis.

The Chief Executive Officer (CEO) of Angel Broadcasting Network Samuel Kofi Acheampong speaking on behalf of the MP told Abusua FM's Osei Kwadwo that Hon Francisca Oteng Mensah responded to the desperate calls of the widow Madam Amama Mutaikelo to help release the detained body the family.
Hon Francisca Oteng has assured to support the family of Yahaya Mutaikelo in terms of difficulties.

The widow, Madam Amama Mutaikelo thanked Hon Francisca Oteng for the kind gesture.

"I don't have anything to say. What I can say is God will surely bless Hon Francisca Oteng for giving me and my family that amount of money to release my husband's body from KATH morgue" She said.