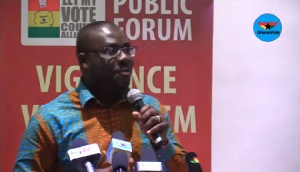 National Organizer of the ruling New Patritic Party (NPP), Sammy Awuku has said that the NDC is exhibiting more signs of incompetence even in opposition.
According to him, leadership of the National Democratic Congress are refusing to look for other alternatives to raise funds for the party's internal elections.

Speaking on Okay FM's 'Ade Akye Abia' programme, he explained that as a party they should be able to raise funds with their brand rather than trying to burden flagbearer aspirants with the cost of organizing an internal election.

According to him he feels the party is not being fair to the aspirants because as a party, raising funds should not be at the mercy of poor party members, and that the party with all its resources should be able to raise funds not only for internal elections but also for other external party activities that will require funds.

"This clearly shows that the NDC is not only incompetent in power, they are equally incompetent even in opposition," he added.

The New Patriotic Party has various ways of raising funds for the party. Ideally as a party, we all have ways of raising funds to support our party activities and that the New Patriotic Party will not burden our party members who aspire to lead the party in what ever form with the sole responsibility of providing cash for the operations of the said activity.
The cost of filing fees to contest as flagbearer for the National Democratic Congress has raised some criticisms from some aspirants and other members of the party.

NDC flagbearer Race: Rawlings Expresses Concern Over High Filing Fee

Former President Jerry John Rawlings has expressed concern about the whopping increase in the filing fee for the presidential primaries of the National Democratic Congress (NDC) and called on the party's National Executive Committee to take a second look at the decision.

The Founder of the NDC cautioned that certain actions or decisions could either be a reflection of the circumstances of the NDC's birth or "mark a departure from where we are coming from as a party".

"I doubt if anyone of us who has served with integrity, relying on our salaries can raise these filing fees unless we engaged in some unethical behaviour while in office; Unless we abused or misused our positions during our tenure," the founder said.