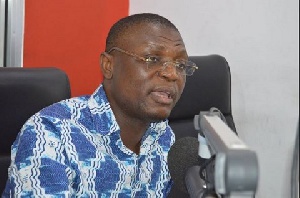 A member of the Communications team of opposition National Democratic Congress (NDC), Agbesi Nutsu has described the party's National Organizer, Kofi Adams as a nuisance to the party.
According to him, Mr Adams' arrogant posturing and his penchant for throwing his weight around is most repugnant and if not checked will discourage people from joining the party.

Kofi Adams who doubled as the NDC Election 2016 Campaign Coordinator, according to some party members became so influential and powerful during the campaign and ran an almost one-man show not listening to suggestions on how best to coordinate the campaign which eventually resulted in the NDC's defeat.

The party currently reportedly owes the state transporter, Metro Mass Transit (MMT) Limited close to GHC1.9 million for renting the buses during the campaign period in 2016, as per an invoice addressed to Kofi Adams from the transport company.

He has acknowledged the dealings with Metro Mass, and said the NDC has paid GHC410,000 'for the mean time' pending a final determination over the cost.

But Agbesi Nutsu in an interview with Kasapa News accused Mr Adams of doing a poor job at coordinating the party's campaign including the manner in which he handled MMT issue which has ran the NDC into problems.
However Kofi Adams in responding to the accusation stated that a nonentity in the NDC such as Agbesi Nutsu has no locus to take him on, on such matters.

But Abesi Nutsu will not have any of Kofi Adams' disrespect for his fellow party members, threatening to cause the latter's defeat when the NDC goes to congress.

"Today he calls me a nonentity in the party saying I have no locus, but I campaigned for him to become National Organizer. He should remember that some of us started the journey to make the NDC what it is now before he joined. I've been a constituency executive from 1996 to 2011, November, when I went to Afadzato South to contest for Parliamentary primary. That alone is enough for me, I have been a cherished branch member of the NDC.

He added: "I was once the National Youth Organizer of the EGLE Party which formed alliance with NDC to win power. I sat at IPAC meetings with the first General Secretary of the NPP, late Agyenim Boateng. Because today you're National Organizer, you bluff all over the place, what you're doing now, people have done it in the past. Today is your turn, tomorrow will be another person's. You've become a nuisance to the organization called NDC."