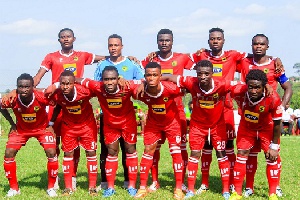 Fri, 28 Jul 2017 Source: Kotoko express
The Management of Kotoko has completely rejected a decision by the Disciplinary Committee of the Ghana Football Association(GFA) that, the club is to be ducked points for "for failing to obey the enforcement decision of the Disciplinary Committee on the Dauda Mohammed transfer".
Kotoko's managers say, the Disciplinary Committee of the GFA has no legitimate grounds to deduct the club any points. They have therefore advised the committee to be fair.

The Disciplinary Committee, in its decision, forwarded to Kotoko and also published on the GFA's website on Friday, said, it has "directed that Asante Kotoko be deducted points for matches to be played with immediate effect" but Management has totally rubbished that directive.

In a statement dated July 28, 2017 and signed by Head of Legal Affairs, Lawyer Yaw Boafo, Management reminded the Disciplinary Committee of its initial ruling, which said that, "Global Stars SC [were] to refund money paid by Kotoko for Kotoko to pay all parties correctly".

Kotoko haven't been paid by Global Stars for it to pay the other parties.

"Thus, it is patently clear from the decision of the Committee that, Kotoko's obligation is contingent on receipt of the sum of $102,000 from Global Stars" the statement said.

Management in its statement also reminded the Committee that, on July 14, 2017, they wrote to them notifying them that, Global Stars have failed to pay Kotoko as they directed.
"Just as the Committee has indicated that, it is acting pursuant to the notification of Intervest of non-receipt of monies from Kotoko, we also expect the Committee to act fairly in relation to our notification on 14th July, 2017" on Global Stars' failure to pay us" the statement added.

"Kotoko has not received the sum of US$102,000 to enable us undertake the distribution as ordered by the decision of the Committee and as a member of the GFA, we cannot enforce the decision of the Disciplinary Committee of the GFA on our own" the statement continued.

"The [Committee]'s decision never indicated that, in the event of a failure on the part of Global Stars SC to Kotoko, we were to pay the sum ordered out of our resources" the statement said.

"Unfortunately, that is what your correspondence seeks to do by asking Kotoko to find the sum of US$102,000 out of its own resources to make the said distribution" the statement argued.

Management demanded total fairness from the GFA's Disciplinary Committee.

"We expect the Disciplinary Committee to act fairly in the circumstances of this case to take the appropriate sanctions for Global Stars SC to comply with the decision of the Committee. It is only then that, Kotoko can comply with the decision of the Committee" the statement ende
Source: Kotoko express