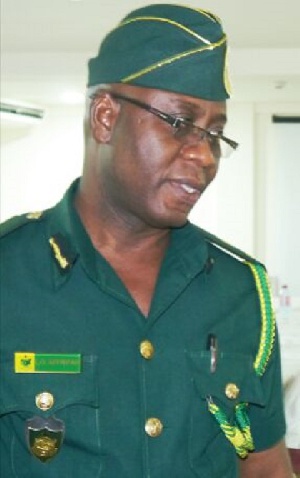 President Nana Akufo-Addo has appointed Kwame Asuah Takyi as the Comptroller General of the Ghana Immigration Service.
Starrfmonline.com can confirm that the former deputy director in-charge of legal service at the Ghana Immigration Service received his letter of appointment last Friday.

Deep throat sources at the Interior Ministry have confirmed an official announcement will be communicated to the public in the coming days.

President Akufo-Addo has also appointed Mr Laud Ofori Affrifah as Deputy Comptroller General, Operations.

It will be recalled that an Accra High Court set aside the interdiction of Takyi based on grounds that he and two other directors had allegedly issued permits to Chinese citizens to engage in illegal mining without due regard to laid-down procedures of the Service.
The court, presided over by Mr Justice Henry Kwofie, a Court of Appeal Judge sitting with additional responsibility, ordered the GIS to pay all his entitlements, including his allowances, privileges and rights due him.

The court further ordered that his entitlements should be paid from the period of his interdiction without recourse to 'loss of seniority.' But, the court, while granting the above reliefs, declined to grant reliefs pertaining to the award of damages and general damages.

The service has also been ordered to pay GH¢3,000.00 to Mr Takyi and Ms Veronica Addy, an Assistant Director for Processing.