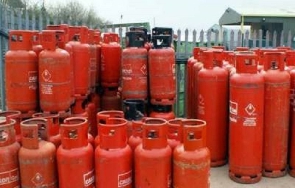 Dealers of Liquified Petroleum Gas (LPG) have begun removing the 13.5% levy imposed by the National Petroleum Authority on LPG.
This follows a directive by the Minister of Energy, John Peter Amewu for the NPA to scrap the newly-introduced LPG Cylinder Recovery Levy levy.

According to Gabriel Kumi, Vice Chairman of the Liquified Petroleum Gas Marketing Companies Association of Ghana, many of the LPG stations have removed the levy which he described as nuisance.

"I pass through some LPG stations and they have removed the 13.5% levy.

"We are not in good times yet, this is the time for Ghanaians to enjoy some freebies, this is the time our President is out there giving out free water, giving out free electricity, giving out free food; let's us also contribute our part.

"Indeed, if you haven't changed your pump price, at the beginning of next week we expect all dealers to have changed to reflect the new price", he said.
The Liquified Petroleum Gas Marketing Companies Association of Ghana had recently warned that the consumption of LPG in Ghana will reduce drastically because of the cost of the petroleum product.

The levy came into effect on Wednesday, April 1, 2020.

"We believe that Ghanaian consumers are being choked with many taxes on LPG; globally, LPG consumption is on the rise, LPG is the fuel of choice. LPG consumption, globally, is growing between 8 to 10% but in Ghana, we are stagnant because we keep a lot of taxes on the product, and we are not able to grow consumption. If we don't start doing anything drastically about the LPG prices, consumption will start going down", he pointed out

Already, the NPA has been sued by the Chamber of Petroleum Consumers (COPEC) and the Consumer Protection Agency (CPA) for the introduction of the Cylinder Re-circulation Recovery Margin.