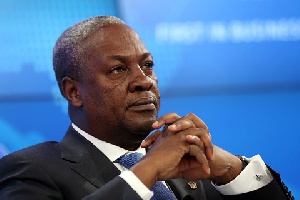 Some notable figures of the opposition National Democratic Congress (NDC), are peeved following the ten Regional Chairmen of the party's open endorsement of John Dramani Mahama to lead the party's effort to reclaim power in 2020.
Even before the former President declares his intention, the ten regional chairmen after a meeting on Thursday, November 9, 2017, issued a communique in which they urged Mr. Mahama to consider running for the 2020 polls.

The move came as surprise to many, taking into consideration the fact that a former Rector of the University for Professional Studies, Professor Joshua Alabi and former Trades Minister, Ekwow Spio-Garbrah have confirmed their intentions of leading the party.

In separate releases, some members of the party vehemently scolded the regional chairmen for acting 'irresponsibly'.

According to them, the call on Mahama is misplaced.

"Regional Party chairmen enjoyed at the expense of other party executives. When NDC was in power most constituency/ regional executives never ever had the opportunity to interact with national executives let alone, the leader of the party. Instead of our Regional Chairmen to apologize for their failures they are rather creating avenues to create and share as if they own the party. They must account for their stewardship in an acceptable manner. They should be able to justify why they maltreated most of us. Misappropriated and misalotted party funds," said Elias Seir, Brong Ahafo Region Communications Officer.
For Ramzy A. Dzandu of the NDC Volta Caucus who wondered whether a bribery allegation levelled against the regional chairmen was true, it would be prudent if they are summoned by the Council of Elders to provide answers to pertinent concerns.

"The Regional Chairmen's "caucus" has no grounding in the Party's constitution and therefore has no locus. Besides, did the chairmen consult the other executives in their regions or they decided to act on the frolic of their own. Why is JM further destroying himself with these kinds of nauseating moves that only go to deepen woes and hurt feelings? The Council of Elders must quickly summon JM and the 10 Regional Chairmen for questioning. If it is true that each Regional Chairman was given 100,000GHC each, to do what they have done, then God save the NDC," portions of his statement read.

On his part, Kofi K. Kukubor, a governance and policy analyst, demanded an explanation of the posture of the regional chairmen as he posited that it is in bad taste. He suggested the ten have been compromised.

"If money is not the motivation, let these Regional Chairmen come to explain this indiscipline attitude. I strongly urge and plead that the members of the Council of Elders meet immediately to take swift action on this gross indiscipline of Party Chairmen if they want to see this great party survive into the far future," the member of NDC's National Executive Committee (NEC) noted.

Paramza Hamza, member of the NDC Communication Team believes the endorsement is an attempt to crumble Professor Joshua Alabi's bid.
"The general public and the NDC supporters should kindly ignore soon to lose Regional Chairmen and their gymnastics. This is the height of hypocrisy, sycophancy and lawlessness in the NDC. Professor Joshua Alabi is focused on the prize. No amount of hypocrisy and double standard will perturb him. Mahama can be beaten and that's exactly what he will experience in 2018 Congress," he stated.

Prince Derrick Adjei who contested in the Ablekuma West parliamentary primaries avers that widely criticized endorsement paints a gloomy picture of the future of the party.

"You listened to JDM speak wisely at Cape Coast, so why allow this sham? He doesn't need a by-force SELECTION, he can easily win a fair ELECTION. Why create unnecessary suspicion and anger around his victory at congress and then get people out of spite/revenge to make sure he stays a Flagbearer and not become President? For your information, I don't hate JDM, I hate what you guys are doing, because I can see the destination you guys are taking us," he noted.

Meanwhile, the Functional Executive Committee (FEC) of the National Democratic Congress has warned party members to cease vilifying prospective candidates for various executive positions within the party.