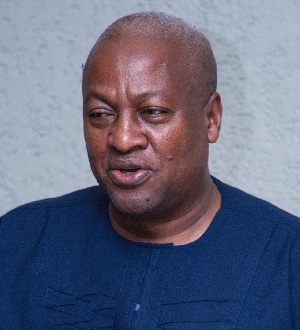 Professor Kwesi Yankah has asked former President John Mahama to leave his name out of his re-election campaign.
According to the educationist, Mr. Mahama had mentioned his name as one of the people he will consult in his attempt to review the Free SHS policy if he wins power in the 2020 polls.

In a statement, Prof. Yankah who is a minister of state at the education ministry said he has been very much involved in the planning of the Free SHS policy under the Akufo-Addo government and therefore not interested in any future engagement with Mahama.

"Professor Yankah would therefore not be interested in being part of any process that seeks to compromise the gains achieved by the Free SHS policy. He, therefore, wishes to advise Mr. Mahama to desist from drawing him into his campaign on education," he wrote.

Meanwhile, Mr. Mahama who denied claims that he intends collapsing the policy has however insisted he will stop the current double track system which has been adopted to cater for the numbers under the Free SHS policy.
"We will abolish the current shift (double-track) system, re-introduce the more efficient three-terms per academic year programme, and bring back the emphasis on skills training, technical and vocational education to provide students with more options, as they go forward with their choices in diverse career and aptitude paths," Mahama wrote on Facebook.

Under the double-track system – which was introduced to help accommodate the spike in student enrolment – the first batch of candidates placed on the GREEN TRACK, according to a statement signed by the Head, Public Relations Unit, Ghana Education Service, Cassandra Twum Ampofo, on Tuesday, 4 September 2018, resumed school on 11 September 2018, whereas the GOLD TRACK (second batch) will resume on 8 November 2018.