Let your work reflect a positive image on the Police Service - CID Boss challenges police investigators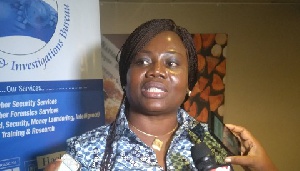 The Director-General of Criminal Investigations Department (CID) of the Ghana Police Service, DCOP Maame Yaa Tiwaa Addo-Danquah has urged police investigators to give a positive image of the police service in the discharge of their duties to victims of domestic violence.
She observed that once these persons lose confidence in the work of the police, it casts a slur on the image calling on them to rise up to the occasion and discharge their duties professionally in order to boost the confidence of the Ghanaian public.

Addressing participants of a two-week Domestic Violence Case Management Course for investigators from the Domestic Violence and Victim Support Unit (DOVVSU) of the service, she underscored the need for victims to be handled professionally.

"You need to handle the victims very well in the discharge of duties and do not let them lose confidence in us else we will not be able to deliver on our mandate. Give them hope that justice will be delivered in the cases lodged with you", she urged.

According to the CID boss, it behoves on investigators to continually give the assurance the police is there for them which should be manifested in the way they go about their work at their various stations.
It is for this reason, she stressed, that investigators are being trained, hinting that more training will be undertaken at the Detective Training School for officers to suit the needs of domestic violence.

"240 officers out of 730 have been trained today and the training tailore-made to suit special needs of domestic violence. Remember that victims of domestic violence are always in constant pains from crime and pains from the criminal justice system. It is for this reason you must discharge your duties professionally to ensure that persons who are found to have perpetrated various crimes are not left off the hook", she stressed.