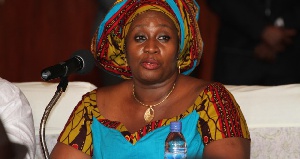 A chartered accountant Jason Gyimah, has indicated in an interview that, the Microfinance and Small Loans Centre (MASLOC) which is a microfinance apex body responsible for implementing the Government of Ghana's (GoG) microfinance programmes targeted at reducing poverty is not longer a national policy but a political policy.
He said although MASLOC and other governmental programmes were ideally established to help alleviate poverty, unfortunately those aspects of our policy has become a political policy.

''If it is a national policy, every government would have continued from where their predecessors left off but when a new government assumes office, they abandon projects undertaken by previous administration all in the name of politics.

If we don't change our ideas and how we manage these programmes, we will continue to be where we are,'' he said. He called for a change in mindset, spend within our means, develop a saving culture so we can raise a new generation of billionaires.

Speaking to Kwame Tutu on Rainbow Radio 87.5Fm, he said the education system has been structured in a manner that, every young person would want to work for people instead establishing their own businesses.


''We need to change our objective and perspective on how we see things. Our system does not encourage people to set up their own businesses. We need to raise and encourage people to create or set up their own businesses,'' he told the host.