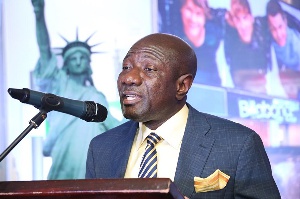 Mobile network operator, MTN Ghana has posted a 23.3% increase in revenue in 2017 compared to 2016.
The company's total revenue soared to GH¢3.4 billion last year, as against the GH¢2.77 billion revenue recorded in 2016.

GH¢9.3m daily revenue

The GH¢3.4 billion revenue divided by 365 days in the year translates into GH¢9.3m (GH¢9,315,068.49) daily revenue in 2017. This strong performance affirms MTN as the most profitable telephony operator in the country.

Speaking at a media forum to present the company's financial performance, Vice-President for Southern and East Africa and Chief Executive Officer (CEO) of MTN Ghana, Ebenezer Asante-Twum announced the company made a profit of GH¢238 million last year.

15.7 million subscriber base

MTN continued to benefit from a positive macro?economic environment, and closed the year with a subscriber base of 15.7 million, following the internal review of subscriber definitions. Focused value propositions and improving NPS supported the good subscriber growth.

Strong growth in revenue, up by 23.3%, was underpinned by data and digital revenue growth.

Data revenue increased by 50.6%
Data revenue increased by 50.6%, supported by the re?pricing that was implemented in the second half of 2017.

6.5 Million active data subscribers

The business reported active data subscribers of 6.5 million. Digital revenue up 37.7% Digital revenue grew by 37.7% last year.

Active Mobile Money subscribers hit 7.1 million

The number of active Mobile Money (MoMo) subscribers expanded by 25.7% to 7.1 million.

In the year, Mobile Money made up 13.6% of MTN Ghana revenue.

Floating of shares to be completed in first half of 2018

MTN Ghana is also moving forward with its localisation, and the group expects this process to be completed in the first half of 2018. Under the terms of its 4G licence, MTN Ghana is required to introduce Ghanaian investors as shareholders.
As a result, the MTN Group board has approved a Public Offer through a listing on the Ghana Stock Exchange (GSE), subject to final approval by the GSE and the Securities and Exchange Commission in Ghana.

A key objective of the listing is to target a broad base of Ghanaian investors to share in the risks and rewards of ownership of MTN Ghana.

GH¢98.9m interest paid to Mobile Money subscribers

Giving an overview of the company's Mobile Money transaction, Asante-Twum said MTN has made GH¢98.9 million interest payments to subscribers from January 2016 to December 2017.

In 2017 alone, he said, MTN paid GH¢71 million by way of interest to subscribers. MTN recorded 8.3 million active wallets for 90 days. The mobile network operator said it paid an average monthly commission of GH¢19.6 million to agents.

GH¢1.2bn taxes paid in 2017

He said the company paid GH¢1.218 billion in taxes, made up of GH¢1.059 billion to the Ghana Revenue Authority (GRA) and GH¢159.4 million to the regulators, National Communications Authority (NCA) and Ghana Investment Fund for Electronic Communications (GIFEC).

GH¢3.5bn taxes paid in 5 years
This brings the total taxes MTN has paid between 2013 and 2017 to GH¢3.515 billion.

$144 million capital expenditure for 2018

Asante-Twum announced that MTN plans a $144 million capital expenditure that would go into 695km fibre rollout, 1,100 new sites to improve 3G network population coverage by 27%, 230 new sites for coverage extension and capacity under LTE rollout, 300 new sites for coverage extension and capacity for 2G network, and 200 rural sites for coverage extension, among others.

He stated that the company has expanded its network to unreached areas from 44.5 to 70% between 2016 and 2017 and is looking forward to reach 400 additional communities at the end of 2018.

The company is partnering with 16 banks, and the MTN Ghana CEO explained that the model is not to replace any of those banks, but with the aim to be the biggest payment platform in the country.

He said MTN currently has over 90,000 active agent points, and is targeting to increase the number to over 100,000 by the end of the year, to make mobile money transaction more easy and convenient for subscribers.

Commenting on the merger of Airtel and Tigo, he did not express any surprise, but rather predicted that Ghanaians should expect such mergers in the near future since the market cannot accommodate the number of telcos in the country.

He expressed optimism at the potential of the Ghanaian market, and said he expects that to continue, adding that, "This is despite very competitive environment. We have been able to hold our market share to over 50 per cent despite the fact there are about five players in the market."
In his brief remarks, President of the Ghana Journalists Association, Roland Affail Monney commended MTN for providing jobs and scholarships to Ghanaians, as well as cutting-edge customer services.

He also thanked MTN for the strong collaboration it has built with the Ghana media over the years.

MTN declares 450 cents per share dividend

At the group level, the MTN board declared a final dividend of 450 cents per share. This is in line with the 2017 guidance of a total dividend of 700 cents per share communicated in March 2017.

On Tuesday, April 3, 2018, the dividend will be transferred electronically to the bank accounts of certificated shareholders who make use of this facility. In respect of those who do not use this facility, cheques dated Tuesday, April 3, 2018 will be posted on or about this date.

Shareholders who hold dematerialised shares will have their accounts held by the Central Securities Depository Participant or broker credited on Tuesday, April 3, 2018.